So I hired a replacement for me at the Galleria. I am now officially depressed. I definately need that prozac now. I feel she's a good choice and I know she'll be fine and I think my girls will like her. I do have to understand that no one will know the store or the merchandise like I do...I've been around it the longest. She is very chill so I don't think stress will be a factor for her, which is lucky on her part. ;)

I need a hair cut. I also need some sushi. I know I'm only getting one of those things today. Most likely, the hair cut.
I am a freakin insomniac. I did not go to sleep until 6 am!!! I was sooooooo tired too! I just couldn't sleep. My mind is just so wired. I hear that stress can bring this on. "sigh"
Maybe I will try one of mom's sleeping pills tonight. I may never wake up. hehe

Time to go type up a Manager's Manual for the newbie. ;)

Ciao!!!
Sporadically I do keep up with this thing. ;) I tried going shopping yesterday. I have decided I need to go shopping with my Judith. I want to have a girlie day before all hell breaks loose, I mean, before I move.
Current Mood:

exhausted

Current Music:

sexy back-Justin Timberlake
Please leave a one-word comment that you think best describes me -- it can only be one word long. Then copy and paste this in your journal so that I may leave a word about you

It has been an interesting 3 years but I "couldn't be happier".
We're moving in together and things will only continue to get better!


Oh and we're totally meant to be, we even bought each other the same card! ( a sweet Mickey and Minnie card)

I love you!!
I just want to say Happy 3 year anniversary to my baby(my Mickey Mouse)
Current Mood:

loved

miss my judith
love my man


that is all
hate my job
Current Mood:

no wanna work!

Current Music:

bad day-by whatshisface

Work on the other hand, not so great. But atleast it's not my man's fault. ;)
Ok so that last entry was a little dramatic. My bf is fine, no longer dead to me. He is fine and dandy and as sweet as can be. I love it when he sees things my way. ;) ok that's not fair either, it was more or less a discussion and a compromise. Blech, we did something like mature adults...ewwww
Current Location:

the boy's bed ;)

Current Mood:

so don't wanna work!!!

Current Music:

birdies outside
my bf (and I use the term loosely) is dead to me. So is my job.
<td align="center"> <table width="300" align="center" style="border: 2px solid black;">
Your Nutritional Information:
Servings Per Container: 1


x
% Daily Value
Sweetness:
20 g
40%
Bitterness:
852 mg
77%
Power:
13 g
37%
Healthful:
201 mg
80%
Excitement:
682 mg
62%

x
Deliciousness:
65%


'What is your nutritional value?' at QuizGalaxy.com</td></table>
<td align="center">You have a sexual hidden talent

You have a sexual hidden talent. You might not look it but you are a dynamo in bed. Most of your lovers think that it is from years of practice, but really, you were just born with it.

Take this quiz at QuizGalaxy.com</td>
<td align="center">You are a slow dancer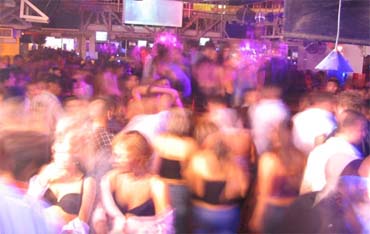 So maybe the club scene is not your thing. You prefer to slow dance (like you did in Jr. high). There is something very romantic about this and it is great as foreplay…

Take this quiz at QuizGalaxy.com</td>


WE MET ERIC IDLE AND GOT HIS AUTOGRAPH!!!!!!!!!!!
OMG! Saw Spamalot tonight! Had free tickets to a dress rehearsal, general admission. Mom and I sat in the front row, the show was FANTASTIC! ABSOLUTELY AMAZING!!! If you love Monty Python and the Holy Grail, then you absolutely MUST see this show!
Current Mood:

excited

We're sad little girls who are getting together to watch Flavor of Love, lol.
Ok, on to the recap:
Monday was my last show with Blue Man Group. I have said that I would drop to sub status and in the future if I can fill in, I'd like to, but something tells me that I won't be working there again. During the show I was getting the feeling that I used to get when I was in highschool performing in a show for the last time. I would always get so attached to what I was doing that the last night, usually the Sunday show would depress me. I have been in the Playhouse for a long time, to walk away was harder than I thought. After the show ended I sat in my car for a long time. It's hard to explain I guess. Moving on…
Tuesday: Class as usual, nothing really special there.
Wednesday: Now this was a good day. I had work at Agatha with Judith and we closed down for an hour and a half to go to lunch at Paparazzi. We had lovely panini's and champagne cocktails. After lunch we were naughty girls and stopped off at the liquor store to purchase a bottle of champagne which we proceeded to drink in plastic cups back at the store. Since the store was closing and this was our last selling day and our last day working together, we were celebrating. Lol We actually managed to go through 2 bottles. =) We're bad bad girls. After work Erin held a meeting for the managers for our new store, Body Basics. Have to say I am getting excited for that. =)
Ok, on the Thursday: classes again, Date Movie with Jonathan.
Friday and Saturday ran together, I cleaned my room hardcore.
Now it is Sunday and I'm watching America's Funniest Home Videos and munching on an entire bag of sweet potato chips(dinner). Luckily the Ab Lounge has moved its way into my room and now I can actually use it. I guess that is it for now. Stay tuned for next week, or any other useless crap I feel like writing about. =)
Time for a weekly recap as I sit here waiting for my date with Judith to start. =)